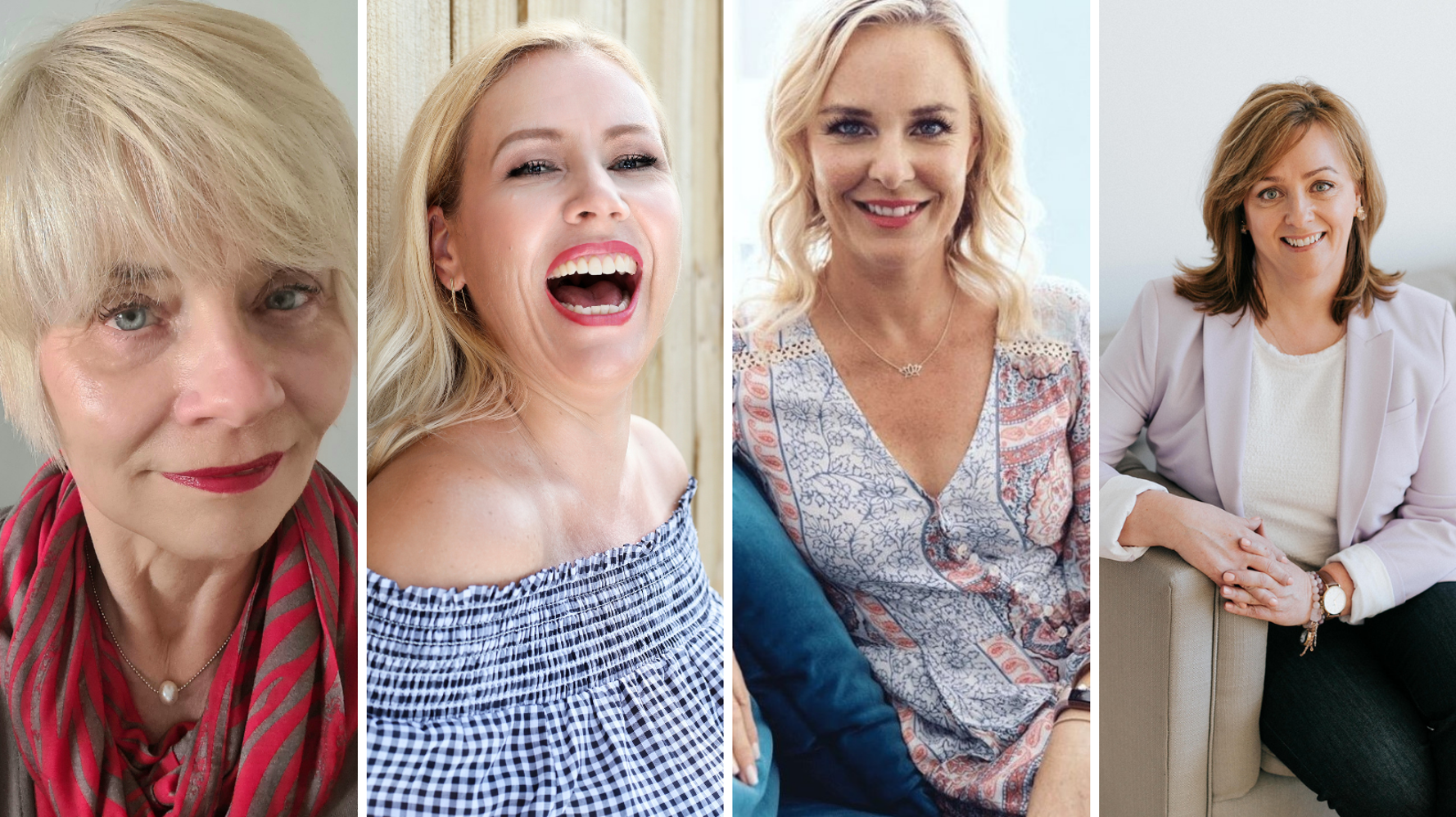 What it's like to be a beauty influencer at over 45
It's not news that women have to prove their worth at almost every stage of their life. While it is hard enough for women to claim their rightful place in professional fields saturated with men, the struggle is also present within their own community, especially in the world of beauty influencers.
The value of beauty bloggers and influencers has always been dictated by a woman's age, with young women attracting most of the lucrative jobs in the field. So how does it go once these young women get older and want to continue their life's work at a later age?
We chatted with fabulous beauty bloggers and influencers over 45 who #proaging, kill their pro game, and influentially educate everyone about what it's like to age gracefully and naturally. Here's what they have to say about their journey in the beauty industry.
Founder of Is This Mutton ?, a UK-based fashion and beauty blog for women over 50
I definitely attract different brands, and these are mostly brands that are made specifically for older women. The first challenge is to make brands understand the value of using older women in their marketing and advertising. There is nothing more maddening than seeing face creams for "mature skin" being advertised by girls in their twenties.
Second, most brands have a blind spot when it comes to older women and social media. They sometimes "like" a photo we may have posted showing us wearing a new lipstick, but they rarely share it. It makes me think their social media teams are probably young people in their twenties who don't want to smear the brand with pictures of older women. Still, the women behind brands like Charlotte Tilbury, Pat McGrath Labs, and Lisa Eldridge are women in their 40s or older.
Third, the brands' social media teams seem to only want Instagram or TikTok. The number of women over 45 on these channels is nowhere near as large as that of young people. Many influencers with huge followers bought their followers when possible. If you analyze their numbers, half of their subscribers are either bots or men. Fashion brands have started to emerge: we now see more diversity on the catwalks. But beauty brands are seriously lagging behind.
The final challenge is the formulation they use when targeting products aimed at women over 45. Anti-aging ? Why are we so against aging? We all age, nothing stops it. We need to come to terms with aging and stop bullying older women into thinking they have to go back and look younger to be okay.
Sissi Nuthman
Blogger behind Beauty Blog Over 40 years
I was under 40 when I started my beauty blog, but as soon as I hit the 40's I noticed that big brands (which actually specialize in anti-aging) like Olay , It Cosmetics or L'Oréal preferred to work with younger influencers and completely stopped working with me. And most makeup brands have no interest in working with women over 40 – it's almost like they think only young women use makeup. But I love makeup and a lot of my followers too! The same goes for PR agencies – they cater to influencers in their 20s to 30s.
I don't know if young bloggers make more money than I do – it's a big secret and nobody talks openly about it.
Amanda ramsay
Blogger behind Amanda Ramsay, a popular Australian beauty blog especially for women over 40
I didn't intend to be an influencer. I am an experienced professional makeup artist who simply saw a gap in the market – no one here in Australia was talking to this huge collection of women. They have been largely forgotten, ignored or abandoned. I have the skills and experience as a professional artist to share my knowledge, and the passion to make sure women get the right information, without the BS marketing, so they can stay visible, feel fabulous and rock at any age.
So I guess it's different after 45 years. Beauty PR is more focused on the younger generation of influencers, but I see it as a reflection of the entire industry. The narrative of the beauty industry has been youth as the only definition of beauty, and scaring the more "mature" beauty into being afraid, as if there is something. thing that is wrong with aging.
I suspect that as brands catch up, PR and beauty brands will be looking for older birds. The wave of change is coming, albeit a bit slow, but the pro-age movement is gaining ground!
Kari schultz
Blogger behind Fab Over 40
Things have changed a lot since I started blogging in 2008. When I started I researched who blogged for beauty and skin care for the over 40 market and there is had absolutely no one I could find. I don't think the PR and marketing firms knew how to handle this. For the most part I was ignored and a few years later started to get noticed, but I was getting countless arguments daily about things like "looking like Kim Kardashian" or celebrities in my twenties. . I would often respond by either asking them if they had anything interesting for my age, but most would not accept my requests.
I was mostly offered free products to try out – all for no consideration. Every once in a while I would be compensated, but nothing like the young bloggers are getting now. It would be a big deal if I got $ 100 to test and promote a product. I think the challenges are just making your voice heard in a way that you are comfortable with. I don't want to promote a product that someone is pushing me to advertise if it's absolutely nothing that I would use or that anyone my age would use. Sure, the latest version of seasonal makeup is fun and pretty, but is that something women over 40 would even wear? If so, I'm all for sharing about it.
Make-up artist, stylist and journalist
When I first moved into this workspace, I felt out of place, as the young bloggers all looked alike – very "Kardashian" – almost plastic. I felt intimidated and dreaded being asked my age! But little by little, I decided that I didn't have to fit into this mold. I embraced being bolder, not older, and found my own tribe of bloggers / influencers and couldn't wait to see my launches. I was so flattered when the younger bloggers started approaching me and asking for my beauty and hairstyle advice! It was then that I realized that we all have a space to work.
For PR brands, young people sell. Still, it's interesting that PR agencies are slow to recognize that it's the older people who have the money to spend and they relate to someone like me touting a product or showing them how. apply the last product reflecting or blurring the light. Being a blogger / influencer over 45 has so many wonderful benefits. On the one hand, I have a much larger audience to address, so I have a lot more opportunities.
Chemist, blogger and founder of Lajoie Skin
Skin care advice from a well aged woman over 45, in my experience, is something a younger age group respects, especially when that person clearly does not have used fillers or injectables. When I was a young chemist working for one of the biggest cosmetics companies in the world at the time, I remember how disappointed I was when Lancôme's face, Isabella Rossellini, was dropped soon after. its 40 years.
My experience and various qualifications are a huge advantage, but it can only be gained over time. But PR agencies and advertisers have traditionally used younger people, even when it comes to targeting an older audience. If we look at the number of bloggers younger than older, they don't represent our society, but the same can be said of other marginalized groups.
Former model and micro-influencer of the 80s
Being a beauty blogger / influencer at over 45 is different! It's different in that many brands are finally starting to recognize that this age group has the cash on hand and can afford to spend it on items and products they love. I'm attracting all kinds of brands that finally recognize that beauty comes at all ages and beauty is really what you feel inside, and we can always enhance our natural beauty with makeup, skin care and hair care.
My brand is growing and my work has grown significantly as a vlogger / blogger. As for the money, I don't really know how much young bloggers make, but I get paid very well for my services. However, I'm still struggling to convince brands that it's a great investment to recognize this demographic and the potential it can produce for them with ROI (return on investment). The perks I have are that I am one of the very few beauty bloggers / vloggers in the space and my Youtube channel has received over 4 million views and counting. It helps that I have been an expert in beauty and wellness for decades.