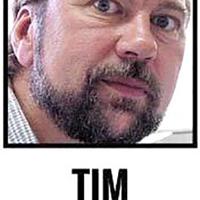 The joy of a little clutter | Local News
Show and book hosting is all the rage, as professional organizers tell you how to declutter your home and, apparently, your life.
There are many streaming shows, like "Hot Mess House", "The Minimalists", "Get Organized With The Home Edit", and "Tidying Up With Marie Kondo".
Professional organizers are usually young women who are nauseatingly cheerful, positive and unbearably organized.
I bet they separate their M&Ms by color before eating them.
I don't know who their target audience is. I guess there are a lot of desperately disorganized people looking for advice. And I imagine those who are already super organized are always looking for new ways to be even more organized.
Most of us probably fall between these extremes.
Our house isn't cluttered or dirty, but I wouldn't say overly organized either.
I have a huge drawer in my desk filled with a tangle of old chargers and HDMI cords and cables, discarded point-and-shoot cameras, and an assortment of other electronics. There is another full box in the basement. I kept them for years and years and never reused anything.
We have guest bedroom closets that you have to use your shoulder to close and you open them carefully so that something doesn't fall on you.
My carpentry shop is perpetually a disaster area.
We, 75 million aging baby boomers, are the source of our own dilemma when it comes to people trying to declutter.
We have homes full of trinkets, collections of thimbles and souvenir spoons, grand Queen Anne furniture, basements and garages full of junk.
And then there are all the things that have been passed down to us from previous generations.
When we try to downsize our empty homes or prepare to retire, we want to pass things on to our children and grandchildren.
But there is a problem. Millennials and the Gen Z crowd don't want our shit.
They grew up on a disposable life of Ikea furniture.
And unlike us — who may have taken our previous generation's stuff even though we knew we didn't want it — millennials and Gen-Zers aren't shy about telling us to bring our odds and ends. -brac at the thrift store.
There is a book called "The Gentle Art of Swedish Death Cleansing: How to Free Yourself and Your Family from a Life of Clutter" which focuses on the problem. The author recounts the Scandinavian tradition of consciously thinking about the things you should get rid of now and keeping only the things you know your children will really want and cherish.
Logic. But I have a sadistic streak that says our children should suffer like we had to.
There's a running joke around our house when we do all kinds of weird arts and crafts that we really don't know what to do with: "Hang it somewhere in the basement." Kids can fight for it when we're dead.
I thought about getting some of these How to Get Organized better books. But I just ignored them and put them on my shelves with the hundreds of other books I saved.
I'm sure our kids will love sorting through all those books.
Tim Krohn can be reached at [email protected] or 507-720-1300.