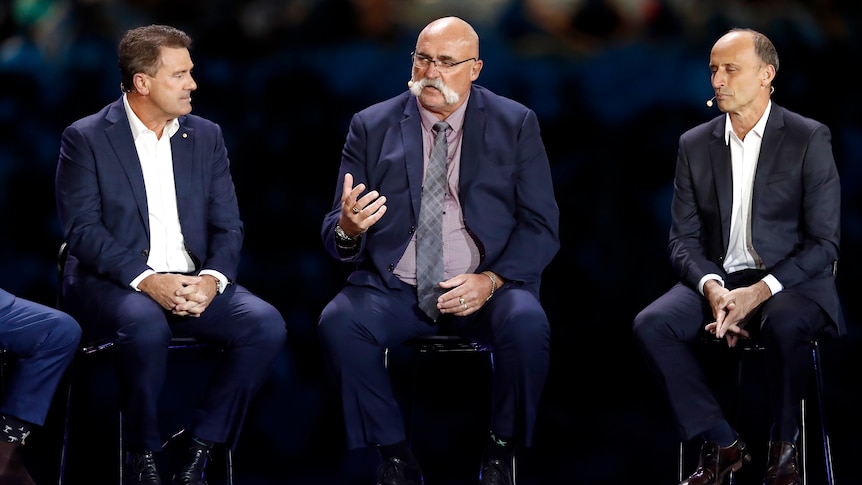 Shane Warne memorial service live updates: MCG farewell Australian cricket
Allan Border: Thank you for revitalizing my captaincy towards the end of my time. I was lucky to have spent two years with Shane and just to thank him for that, just on my own.
Mark Taylor: Many thanks to Warnie on behalf of cricket. He brought slow bowling back into fashion. He made it cool. And I think we who were lucky enough, and AB and I commanded it in particular, really appreciate it because it made us better captains and better leaders.
Merv Hughes: Thanks for being a great friend. Basically one of the most loyal people you know. And people who don't know him think he's the way he is because of what he did at the test cricket, but it's the other way around. He did what he did because of his way of being. He's a great guy. And I feel sorry for the people around Australia who have never met him.
Nasser Hussein: I would say Shane, it was a privilege to be on the cricket pitch with you. You were the greatest bowler I have ever seen. For the past 10 years it has been an absolute privilege to be in a comment box with you and to call you a friend. And on behalf of everyone in England and our Sky team, Bumble and Warnie and everyone, we love you and we will miss you.
Brian Lara: I've always been in a rush to get out and drive Shane's Ferrari after a game of golf, but this time I'd stop and look back and say you're the greatest Aussie I know. And I treasure our friendship. And I have always been honored to be in your presence. Thank you.