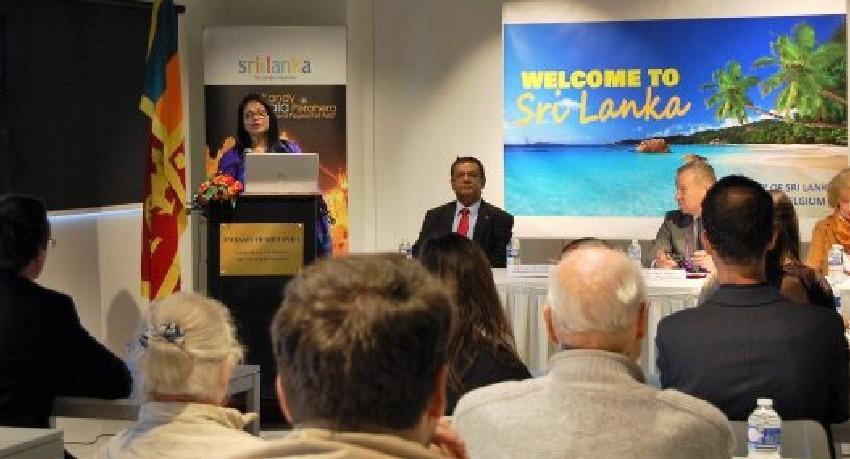 Promo Tourism in the Walloon Region of Belgium
COLOMBO (News 1st) – The Sri Lankan Embassy in Brussels recently held a tourism promotion workshop in Namur, Belgium.
The Governor of the Province of Namur, Denis Mathen, inaugurated the workshop and spoke out in favor of promoting Sri Lanka as a holiday destination for the inhabitants of the province.
This is the first time that a tourism promotion event for Sri Lanka has been organized in the French-speaking Walloon Region.
Around 50 tour operators and agents, travel journalists, travel media and television professionals, travel bloggers, social media influencers, airline representatives and decision makers from the Belgian tourism industry attended the event.
The local television channel, Walloon TV, provided media coverage of the event, which enhanced the reach of tourism in Sri Lanka.
Delivering the welcome speech, Sri Lanka's Ambassador to Belgium, Grace Asirwatham said that, popularly recognized as one of the best tourist destinations in the world, Sri Lanka was an extremely safe, secure and serene destination for visitors. .
Further, Ambassador Asirwatham explained the post-COVID-19 situation in the country and informed that the country is fully open to tourists from all over the world.
She also persuaded travel agencies to include Sri Lanka in their list of countries as one of the best destinations for Belgian travellers.
Sri Lankan Honorary Consul in Antwerp Monique De Decker, Managing Director of Andrew The Travel Company (Pvt) Ltd Mahen Kariyawasan, and Classic Destinations Advisor Ruwan De Alwis, made presentations to promote the various tourist attractions in Sri Lanka , including mainstream and niche product attractions.
Public market administrator Michèle le Grand-Decharneux shared her best experience with the travel industry in Sri Lanka and recommended Sri Lanka as the most attractive holiday destination for Belgian travellers.
Representatives from Emirates and Qatar airlines joined the event to promote the economical and efficient connectivity options that their respective carriers offer to facilitate the travel of tourists from Belgium to Sri Lanka.
The workshop introduced Sri Lanka as a natural tourism destination with various splendors and grandeurs, golden beaches, incredible features and topographies allowing everyone to experience an unforgettable journey.
The number of Belgian travelers visiting Sri Lanka has seen a remarkable increase since 2010.
5,371 Belgian travelers visited Sri Lanka in 2010, this number increased to 17,519 in 2018. In the post-COVID-19 situation, the number of Belgian tourists visiting Sri Lanka is gradually increasing and stood at 4,783 in 2022 until in August.
With the Belgian government having relaxed its travel advisory for Sri Lanka in September 2022, the travel industry is eager to promote the country as one of the best holiday destinations for Belgian tourists.
The Embassy has been organizing similar tourism promotion activities in other major cities such as Brussels, Ghent and Antwerp since 2021 and has decided to continue them as a permanent activity in its annual action plan within the framework of diplomacy. economic.
Recent news