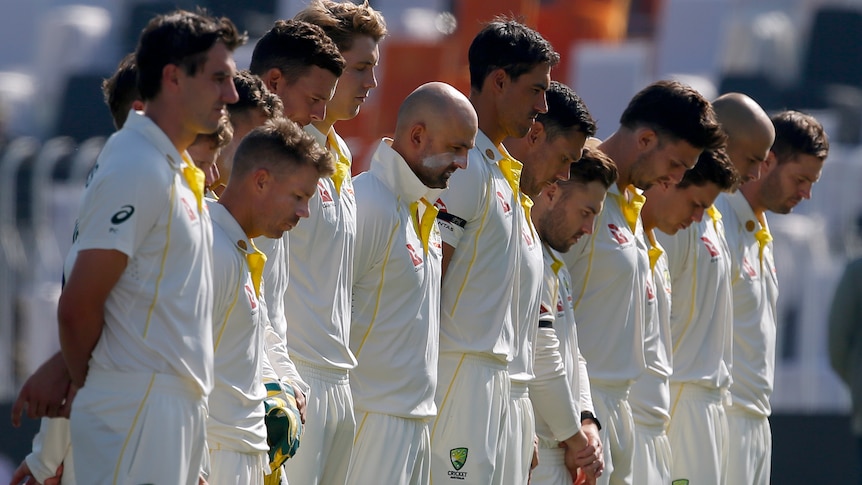 Pakistan v Australia live updates: Shane Warne recalls start of day two of first Test in Rawalpindi
Players from Australia and Pakistan take time to honor Shane Warne on day two of the first Test in Rawalpindi.
Follow everything in our live blog.
Live updates
153rd over – Green charges again
Serious reverse swing for Green, he's able to move through the air the most of any setter. Both directions too.
Azhar's thick inner brim avoids stumps and goes down to the thin leg for one more.
152nd above – Lyon will play again
The ground remains spread out, so the singles continue. Australia is just biding its time now, ensuring the execution rate does not rise above its current level. At this point, it's up to Pakistan to force the issue.
SIX! It's more like that! Just what the doctor ordered! A powerful sweep in the middle of the wicket for a huge six from Azhar Ali.
A good endgame for Pakistan.
151st Over – Cameron Green in attack
And it opens with a beauty of a yorker. Azhar does well to keep him away.
Azhar takes cover for one more, so Rizwan will strike.
Another opportunity to turn one into two goes begging as Rizwan slips while spinning.
Three more and some promising signs from Green.
150th plus – Lyon, always
He's played 50 overs now, an entire ODI innings on his own. 1-148 its current numbers.
Azhar charges and struggles, but it hits the bat foot. Fortunately, he falls short of the long flyer.
FALL! Cut to Carey but it's going down. Should have been taken. Lyon crumbles in despair as Rizwan earns a living.
ANOTHER RUN OUT! ? Great mid-term Cummins ground to slide and release, but I think Rizwan will have survived here. Lyon picked up the ball and took the stumps himself… and Rizwan did survive.
He's off the mark, right.
149th over – Cummins for the bowl
I'm sure he'd like to take a look at the new man, but for now Azhar is on strike.
A few leg byes given as Cummins strays onto Azhar's pads.
Nicely knocked to the ground by Azhar for one more.
Don't think Rizwan is here for fun. It's very rarely his shot at the best of times, but it looks like he's ready to play a few shots.
148th on encore – Lyon continues
Mohammad Rizwan is the new man.
Rizwan defends the last balls of the plus after Azhar gives him the strike.
There was a whole Marnus party after that race too. He is the spark of this team in many ways.
GONE, RUN OUT! SENSATIONAL OF LABUSCHAGNE ON THE PITCH!
There is something special that Australia needed in the last two days. Huge work from Labuschagne to rush to the middle of the wicket and throw the stumps with Babar inches off his floor.
Babar opts for 36.
148th over – Lyon again
RUN OUT! SURELY! Direct hit from Marnus Labuschagne and I think Babar Azam is on his bike!
147th plus – No more Cummins
Good run from Azhar who makes one half way and takes off.
A few singles to start over, but Cummins is now probing Azhar's strains. That reverse swing is still there, even with a 67 over old ball.
A tidy one from Cummins, and the planned Pakistan attack remains on the back burner.
146th over – Lyon again
Azhar leaps onto the court and knocks Lyon through extra coverage. Just the single though.
Babar can't seem to keep Lyon away, only one from there too.
145th over – Pat Cummins back in attack
He started from one end of each session today and has the only wicket for the day.
Well trained by Azhar, and a miss from Labuschagne in cover allows him a single.
Cummins targets the stumps and Babar can't pull him away. Just one from above.
144th finished – Nathan Lyon resumes his spell
Around the wicket to Babar, who takes it for a single. The lights are on as the cloud cover gets a bit heavier.
So any pretense of trying to take wickets is now out the window for Australia. The pitch is completely spread out and Lyon are playing conservative lines around the wicket.
Just the three races from there.
143rd finished – Marnus Labuschagne gets us back on the road
Play was halted after a ball due to a problem with sureties. We have fresh produce there now.
SHOOT! Asserted sweeper by Azhar Ali for four. A declaration of intent, perhaps.
FOUR MORE! Very thin cut certainly by Azhar, but quite wide from Warner at the brief. It's another border.
AND EVEN! The slip is removed, so a very late cut from Azhar runs away safely to another boundary.
It's 12 since the start of the session.
IT'S TEA! Pakistan 2-394 (Azhar Ali 151*, Babar Azam 33*)
Australia took a wicket in this session! It is worth pointing out.
Other than that it's been more or less the same, an absolute walk in the park for the Pakistani batters whose only problem now is deciding when they want to put their foot down and blast Australia out of the game. 'water. In truth, it looks like Pakistan could reach the total it feels now.
There has been talk of a statement tonight, but I would be surprised. More work awaits Australia after the tea break.
142nd over – Lyon again
It will therefore be the last before tea, and Australia will have to go 38 overs in the final session, with the help of an extra half hour no doubt.
Barely a defender in sight near the pitch. Babar always finds a midwicket gap and takes one.
A bad sloppy pitch from an exhausted Lyon. He and his team look pretty much cooked.
And it will. We rather drink tea.
141st above – Labuschange for the bowl
Azhar reaches and drives, but picks the cover fielder.
Straight to the ground this time though for one, and this is Azhar Ali's 150. A stellar sleeve.
Labuschagne the lobes up there and the shots come from both hitters. Just needs one to bounce and spin a bit and it could be in business.
It was a good and quick pass from Marnus. We'll have time for one more after all.
140th plus – Lyon around the counter now
Azhar makes him pass the back square leg anyway.
Singles are now flowing afloat from Lyon bowling.
Three from above. Maybe it's just time for one more before tea.
Job , update